SOS Production Standup Paddleboards:
The new production Sean Ordonez standup paddleboards are here!!!
Big Red (11'11") and Big Blue (10'10") have never looked so gorgeous...
We're really stoked on how they turned out...:-)
These are the 1st production standup paddle surfboards available in the world.
We know that these beauties are going to put miles of smiles on their owners....
The 1st round is sold out at MSRP $1300, with the next shipment from the factory due in ~ 3 weeks...lots mo' info on them in this BLOG...Da Blog...
Bamboo Standup Paddleboards:
Sean Ordonez has just finished up a couple of new bamboo SUP racers...
13'6" & 14'6"...
Sean Ordonez (top)...Campbell (bottom)
Sponsored by QuikSilverEdition.
"This race is the most challenging and prestigious of its kind in the world. A 32-mile paddleboard race across the treacherous waters of the Ka'iwi Channel, it is the ultimate measure of strength, endurance and agility. To inaugurate the event, Hawaiian will priests conduct a sacred ceremony in full traditional garb, sounding conch shell horns and blessing the race with ancient prayers. A celebration with food, live music by Titus and Melvin and an awards ceremony will await competitors at the finish line. Also, defending champion and QSE team rider Jamie Mitchell will be on site to sign autographs."
Only the world's finest paddlers compete in this event. They are respected for their achievements and inspire others to reach for success..."
NEW: 2-piece Pohaku Standup Paddles
We are now offering two-piece paddles in 84" assembled length...can easily be cut to your desired size, and they have a stainless steel, spring-loaded pin, that connects the ferrule together for a strong connection.
Very convenient for traveling or just everyday use.
The 2-piece paddle is $349 and an optional compartmentalized bag is offered for $25.
http://www.surfingsports.com/beachboy_paddles.asp
Labels: carbon paddles, Laird paddles, standup paddles, standup surfing paddles, Todd Bradley paddles
SOS Wave board lineup:
Introducing the new Sean Ordonez production waveboard lineup...
The boards come complete with a custom foiled fin and ono DaKine straps...MSRP $1350
Bamboo Standup Paddleboards:
Sean Ordonez is just finishing up a couple of 13' bamboo SUP racers...
Sean Ordonez (left)...Campbell (right)
BIG RED & BIG BLUE
The epoxy production versions of Big Red and Big Blue will be here soon...
More epoxy standup paddleboard pics:
BIG RED
11'11" X 29.5"
-A TRUE ONE DESIGN BOARD, ONE OF THE MOST VERSATILE ALL-AROUND BOARDS, YET!...
-BUILT IN LIGHT, TIGHT AND BRIGHT (LTD) EPOXY STYRO VACUUM SANDWICH TECHNOLOGY
* 12 YEARS IN RESEARCH & DEVELOPMENT...
- A NATURAL BLEND OF A SURFBOARD, WIND-SURFBOARD AND A CANOE. REPRESENTING TWO
YEARS OF PROTOTYPES AND 20 YEARS OF HAND SHAPING EXPERIENCE. -DESIGNED TO BE FAST AND SURFY...
-IDEAL FOR DISTANCE AND DOWNWIND COASTLINE EXPLORING. WHEN THIS BOARD HITS THE SURF LINE, ITS' CLEAN CURVES COME ALIVE FOR SMOOTH LOOSE GLIDE...
-IDEAL FOR ALL LEVEL OF STAND UP SURFERS...
-PARABOLIC ROCKER LINE, LIKE BIG WAVE GUNS MAKING IT HANDLE STEEP DROPS...
-PROGRESSIVE BOTTOM CONTOURS FOR PERFORMANCE RIDING OFF THE RAIL AND TAIL...
-ON THE WAVE, THIS BOARD IS DESIGNED TO TAKE A SINGLE FIN FAST GLIDING HIGH LINE...
-A GREAT CROSS OVER BOARD AS A TANDEM, FOR SHARING MANY MOMENTS WITH YOUR LOVED
ONES...
-WHEN GLASSY CONDITIONS CATCH A SMALL SEA BREEZE, WITH THE WIND TO YOUR BACK , THIS BOARD CONVERTS INTO A LIGHT WIND SAIL BOARD.
* ONE DESIGN ENTHUSIASTS WILL ENJOY...
********************************************************************
BIG BLUE
10'10" X 28.5"
-A SMALLER PERFORMANCE VERSION OF BIG RED, WITH GREAT STABILITY AND MORE LOOSENESS ...
-BUILT IN LIGHT, TIGHT AND BRIGHT (LTD) EPOXY STYRO VACUUM SANDWICH TECHNOLOGY
* 12 YEARS IN RESEARCH & DEVELOPMENT...
-IDEAL FOR LIGHTER SURFERS OR PERFORMANCE SURFING ENTHUSIAST...
-A WIDER NOSE MAKES THIS BOARD A GREAT NOSE TRIMMING BOARD AND ITS WIDE SQUASH TAIL MAKES IT STABLE AND LOOSE THROUGH TURNS...
-SIMILAR LINES TO ITS BIGGER COUNTERPART, MAKE THIS BOARD A PROGRESSIVE EVOLUTION TOWARDS THE HISTORY OF THE SHORTER BOARD...
-A GREAT CROSS OVER SAIL BOARD FOR BEGINNERS...
-ALSO A GREAT TANDEM BOARD...

The first container is selling out fast...we have a waiting list for the first shipment of Sean Ordonez standup paddleboards due in late July...and have a few not spoken for, so get your orders in now...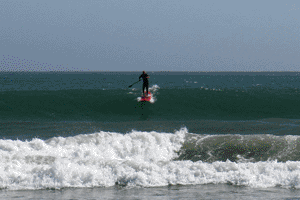 WARDOG dropping into a hollow macker on Big Red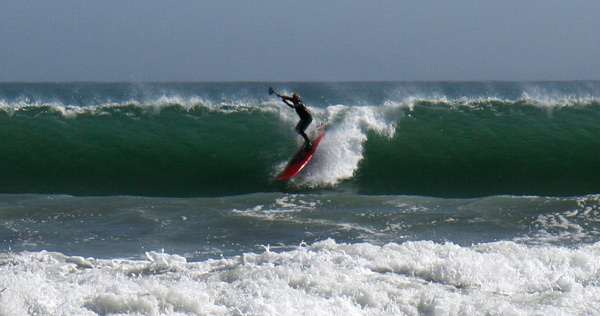 More Big Red standup paddle surfing pics:
http://surfingsports.com/Big_Red_Cali_Standup/index.html
http://www.surfingsports.com/sean_ordonez/index.html
Sean has been busy building some gorgeous bamboo standups...
This one is not quite finished, but you can see the craftmanship (love) that he is putting into them: