OUR SNAZZY NEW SUP SPORTS® WEBSITE IS NOW LIVE! (click)

DA HAMMER SUP IS A MAJOR BREAKTHROUGH IN MAXIMIZING FUN!

Be sure to check our BLOG for the latest shizzle on Da Hammer...

Click on :: SERIES :: links below for more detail on each of our SUP board models... WD SERIES™ :: STOKE SERIES™ :: MAHALO SERIES™ :: ONE WORLD SERIES™
:: CALIFORNIA BUILT CUSTOM SERIES :: HAMMER SERIES™ BOARDS :: JAMMER SERIES™ :: MALLET SERIES™

No hype...simply an amazingly fun SUP board design...best all around SUP on the market!
Best glide, stability, tracking, maneuverability, performance, and value per liter!!! MADE IN THE USA CUSTOMS AVAILABLE!

Molly hitchin' a ride on Al's 9'5" Hammer...




We now have a soft top version of our popular Hammer SUP model for $999...


Buy Hammer Soft Top SUP Here

These are 8'11" x 33" @ 165 liters and 9'5" x 34" @ 185 liters...weights at 21#-23#...

Perfect family, dog, school, and/or rental boards...heck, it's just a dang perfect board, PERIOD!

Highlights include the same hydrodynamically efficient deep concave bottom design as on our carbon version...not totally flat like every other soft top that I have seen...
Futures side boxes...not bolt-thrus...
GoreTex vent breather...
GoPro plug on the nose...
Ergo handle...
2+1 fin set...
Compact volume distribution...
Lightweight for their size...5#-6#(+) lighter than other soft tops at this volume...

Our designer, WARDOG ®, putting an 8'11" Hammer thru the paces...click image below for more board models...




We've come up with a board that is as close to the "Holy Grail" of the ultimate one board...all around...all water solution as has existed to date...an incredible magic carpet ride that glides across sections of water that have flattened out and allows you to connect sections that were not connectable...pure glide in a compact ride...flatwater to waves...the best all around SUP on the market!




Deb paddling the 8'11" Hammer at a beautiful flatwater venue on vacation in Central America...




We cross pollinated a Wardog Jammer with a Ray Lucke mini-Simmons nose...threw in a little (Liddle) Speed Egg influence in the outline...and, added in some Bonzeresque - like channel hydrodynamics...deep concaves...increasing lift...decreasing drag...quad + 1...multiple fin optimization choices...increased the primary and secondary stability...optimized the rocker line for speed...and, developed the "Chisel Tail" for increased maneuverability...etc...and, in the process, created a board that goes faster when you stand on the nose!!!

Da Hammer is the ultimate SUP noserider...click image below for a galleria of noserides...



We've been so slammed with custom Hammer orders that we have had to initiate a run of production carbon Hammers to help satisfy demand of these carbon sup boards...not bad problemos to have...;-)



Kristine on the 8'11" Hammer...




PRODUCTION CARBON 2 TONE HAMMERS IN STOCK NOW! $1799 Click images below for more info...


These are all in full SUPerlite carbon construction...Maui Blue...Seafoam...and, Green Apple...with, brushed white decks and dual pin lines...IN STOCK NOW!...
Click on image above for gallery of our new new production carbon two tone Hammers...the pricing is the same as our other SUPerlite carbon production boards...


The Hammer has more glide and stability than boards that are longer and narrower...here is Big Will at 250# floating high and dry on the 9'5" x 33" Hammer at 178 liters...




Kelsy enjoying the superior stability of the Hammer while rehabbing her knee...click for more pics of paddling the Hammer in flat water...

Dave at 195# floating comfortably on our 8'5" x 31" Hammer at 140 liters...

Deb paddling the 8'11" x 31" Hammer in Mexico...
Click image below for action GALLERY of 8'11" Hammer paddle surfing images...
Click image below for another action GALLERY of 8'11" Hammer paddle surfing images in a little more size...
Click image below for action GALLERY of fresh Hammer paddle surfing images...
To Da Hammer...Every Wave is a Nail...;-)


Here are our stock sizes for Da Hammers indicated below...we have most of these in stock at our Santa Barbara store for demo...of course, if we are building you a custom, we can scale it to just about any size you want...we've built a 10' x 35" and a number of 10'3" x 31" and 10'3" x 32" models...and, we can drop a couple of sidebiter boxes if you prefer 2 + 1, or single fin option...

7'11" x 30" x 4": 117 liters (Quad +1)
7'11" x 31" x 4.4": 132 liters (Quad +1)
8'5" x 31" x 4.4": 140 liters (Quad +1)
8'11" x 31" x 4.4": 148 liters (Quad +1)
9'5" x 31" x 4.4": 160 liters (Quad +1)
9'5" x 33" x 4.6": 178 liters (Quad +1)
10'0" x 31" x 4.4": 170 liters (Quad +1)

We also recently built a couple of larger Hammers for fishing and tandem paddling...
10' x 35" x 4.75": 205 liters (Quad +1)
10'3" x 32" x 4.6": 188 liters (Quad +1)
10'3" x 33" x 4.6": 194 liters (Quad +1)

Here is a 10'3" Hammer with tie-downs that we built for Kristy in Florida...

Ally and her sister surfing tandem on an 8'11" Hammer...


Da Hammers have phenomenal glide and stability for their size because they are so hydrodynamically efficient...
In fact, many riders are going down in length 10"-12" and widths 1"-2" compared to their previous boards...

Click on image below for shots of a few of the custom Hammers that we have built for clients recently...



Click on image below to access 170 more high rez Hammer images...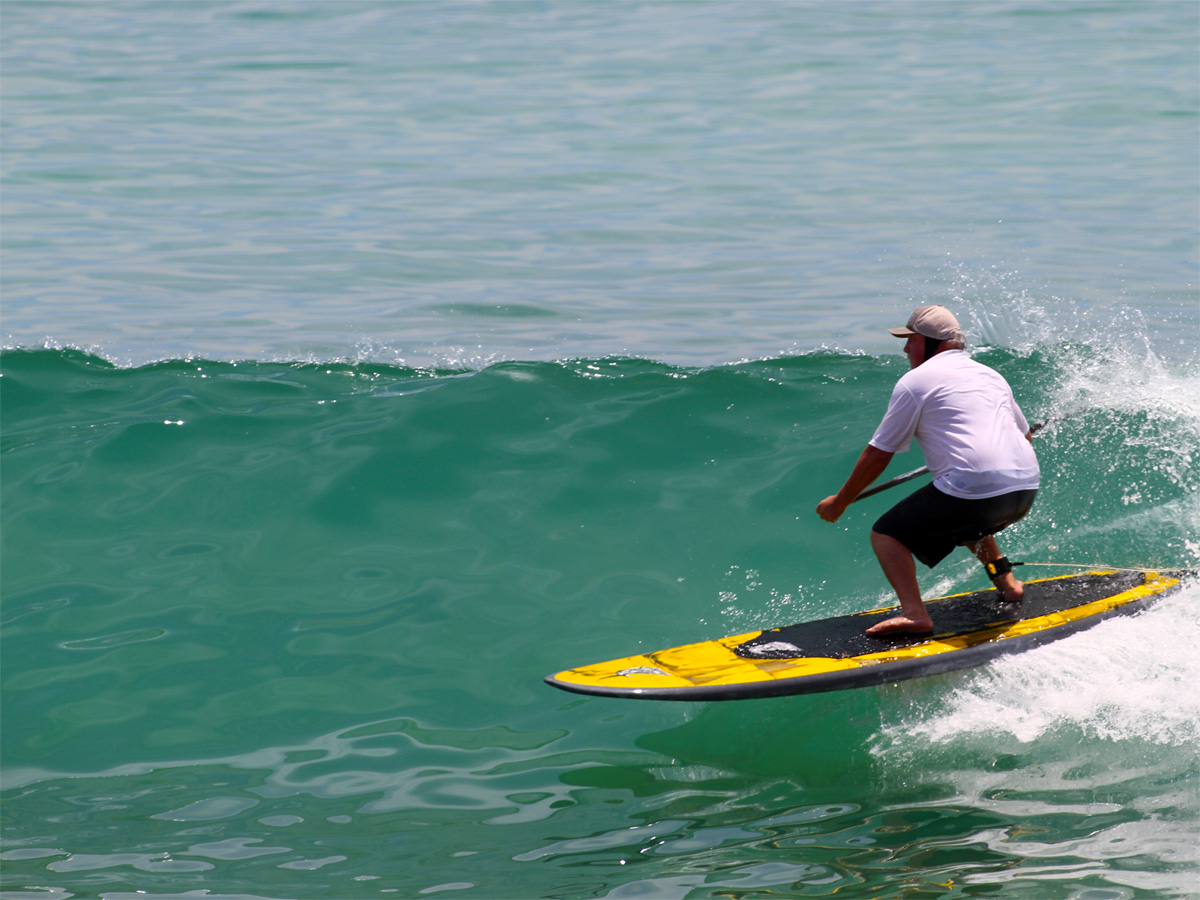 WD blasting down a high line in the pocket with the Hammer's built-in burst of speed...magic carpet ride...click images for more pics...



Da Hammer has 3 distinct riding areas...it speeds up when you move into the nose area...this burst of speed is exactly as designed...all on really small fins...super loose yet positive with 4.5" fronts...3 3/16" rear sidebiters...with my 2 1/4" StubNub trailer...or, ride it trifin...or, simply single fin...your choice...your style...we have the SUP fins developed in house to dial it in...


Mo Freitas, professional paddlesurfer currently ranked 5th in the world, trimming on the nose of the 7'11" Hammer...




WD laying into a cutback on the tail at full speed...



The Hammer's unique "Chisel Tail" maintains board speed when redirecting out of turns...not bleeding off speed will allow you to pull off more maneuvers...more easily... You most definitely can learn to paddlesurf with Da Hammer...it has a very large "sweet spot" which allows for turning and trimming from the standing area...in fact, Da Hammer the most forgiving SUP that we have ever been on...stability...glide...and, maneuverability all rolled into one!!!

Relatively flat rocker profile (speed and better paddling) with just enough nose flip so that you won't pearl...

Lots of volume in the tail, which keeps the board from bogging down in less than stellar wave conditions...

The Hammer tracks extremely well...but, it also turns easily from the mid-section...which is a hard attribute to design into a SUP...and, it also turns off the tail and really has an accelerator in the from third of the board with deep mono-concave generating lift...because of it's stability...and, secondary stability...glide...volume distribution...etc...you can ride it around 8" to 1 foot shorter than you normally would...which helps tremendously in maneuverability and off-water mobility...

We can safely say that there isn't a better paddling and surfing 10'0" on the SUP market today...the 10'0" Hammer is that good...

We also give you lots of SUP fin options...the Hammer comes stock with 5 boxes...and, since Wardog is also a fin designer, we optimize the fin setup on every one of our client's boards...

All of the shapes we offer are born and tested by Wardog Designs, maker of our SUP SPORTS and HAMMER line of boards. A lifetime dedicated to surfing has been brought to this sport, and we are super stoked to offer our clients state of the art CAD computer custom-shaping technology.

We are proud to be working with master craftsmen based right here in the "805"- keeping work here whenever possible. Having a working relationship with expert shapers and glassers has allowed us to develop and test our shapes in both flat water and surf environments - we know you'll be STOKED FOR LIFE with our products and thank you for choosing to work with our team.

Custom boards are the perfect choice for people who need a board that is specifically designed for their needs. We offer a number of construction and finish options that will have you dialed in with the right shape, right amount of float for your body-size and surf conditions.

You can order both our production-model SUP SPORTS brand shapes, or our newest Hammer shape, made to your desired spec's: Length, Width, Thickness - giving you the perfect board made just for you.

All custom boards include: (5) finboxes, GorTex Vent Plug(s), Deckpad, Leash and Wardog signature fin set (Quad+StubNub, Tri-Fin or Single) AND choice of painted deck and bottom. Special metallic paint and/or air brushing are extra.

We offer (3) different construction options:

1. Standard Glass Layup: 1.5lb foam, 6/4 glass/epoxy finish with custom painted or clear deck and bottom.
COST: $1449

2. Carbon Deck with Rail-Wrap: 1.5lb foam with one layer of glass, and a full layer of carbon wrapped over the deck and rails; an additional section of carbon is layered right where you stand (aka a "standing patch",) to add durability and strength. These are lighter than Std Glass Layup boards and just as strong. Custom colors included.
Cost: $1599

3. Full Carbon: Like our production-carbons, these are the strongest and lightest boards we make. Light, bright, and tight! Nothing beats all-carbon for performance, ease of carrying and comfort. Custom colors included.
Cost: $1699

We ship anywhere in the U.S. using a few key freight carriers that we trust. Our boards are packaged up with cardboard,bubble wrap and then double-boxed to insure a safe transit however just in case, we insure every board shipment. We use a freight broker to ensure best prices in your lane. We also suggest picking up the board at the freight terminal if you can, rather than home delivery, as it costs less and there is less chance of it being handled more than it needs.

A consult with Wardog will get you started with us - once a deposit has been made, it's about 5-6 weeks to have your board completed. Please note that if you cancel a board order prior to taking it, you will be charged a min 15% of the total cost of your board or $300 (whichever is more) for production work and the blank that was ordered on your behalf.

Click on image below for ~200 reasons that you want a Hammer SUP...make that NEED a Hammer SUP...;-)




Mike's testimonial on his new 8'11" Hammer...

"Best surprise of summer! Waist to shoulder high waves, totally unexpected, favorite break, new board, no one out! YES!
Day two test riding the 'Hammer' Super fast, loose, and nose rides! Every wave is a nail. Wardog does it again!!"

5/16/13: Subject: 7'11" Da Hammer

The board arrived without any issues and it's beautiful. I am super stoked.

I am very pleased with my new board and the bag is awesome also. Thanks again for designing such a great board.

Don H***** (Austin, TX)

Click on images below for video clips of the mini Simmons influenced Hammer in action...