Click on :: SERIES :: links below for more detail on each of our SUP board models... WD SERIES™ :: STOKE SERIES™ :: MAHALO SERIES™ :: ONE WORLD SERIES™ :: CALIFORNIA BUILT CUSTOM SERIES :: HAMMER SERIES™ BOARDS CLICK LINKS ABOVE  FOR BOARD SERIES DETAILS... NEW! Two tone carbon color finish options on our WD...Stoke...Mahalo...& One World production models...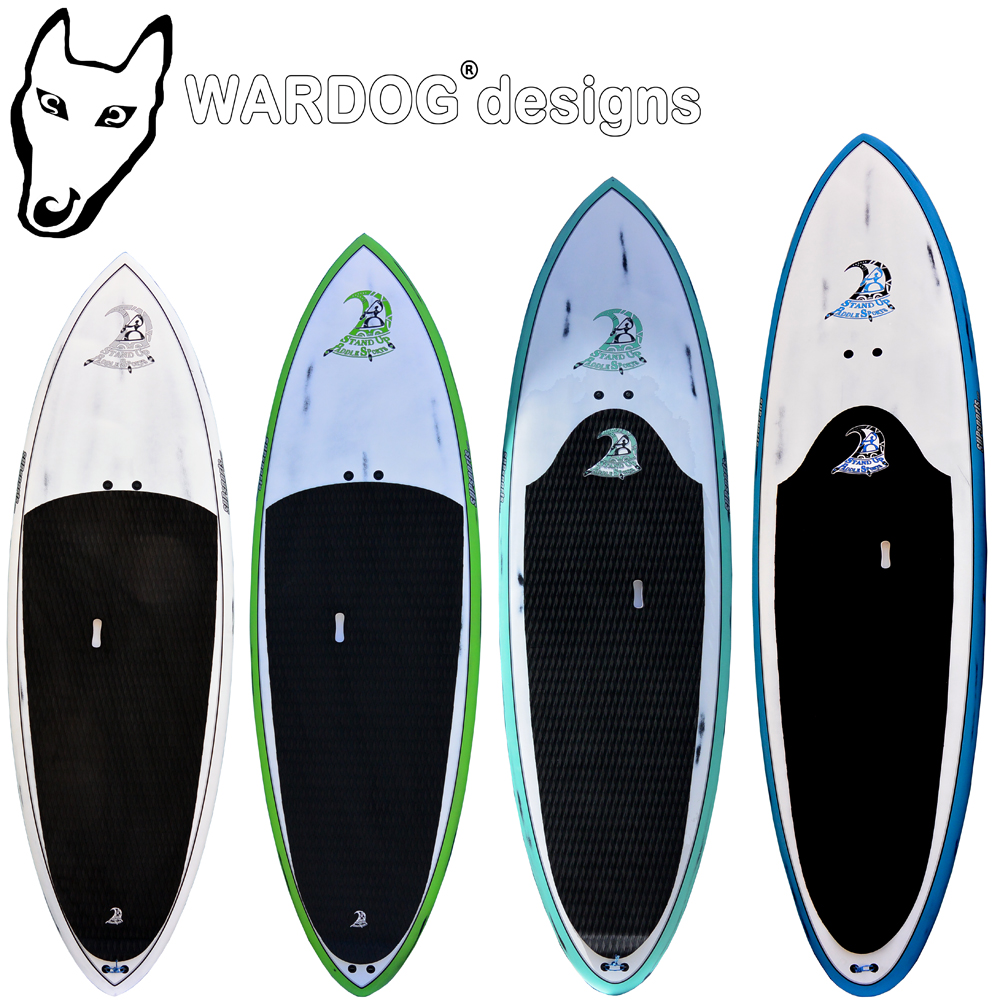 WARDOG ® piloting a custom California built 9'2" x 31" Stoke into some sweet sections deep in Central America... All 15 of our refined SUP board models shown below with gorgeous Australian Pine wood veneers, plus our 8 new production Hammer models, are meticulously developed, designed, and tested by us in Santa Barbara before going into final production. All 23 production SUP models are available in our acid washed SUPerLite carbon construction. You will love the strikingly beautiful brushed carbon finish...as well as our custom SUP shapes made here in the US to your specifications...give us a call or email, we are here to help you perfectly tweak it to your specifications. StandUp...StandOut™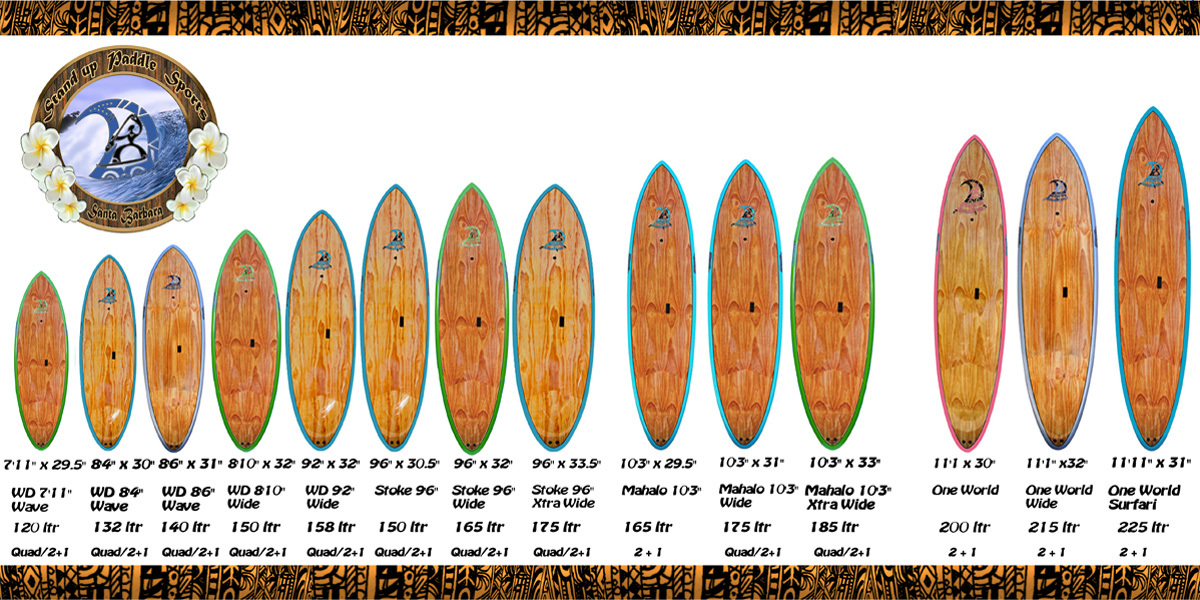 Pricing is easy...here's how it works: The gorgeous boutique quality production boards with Australian Pine decks are $1299… The boards with Australian Pine decks and bottoms are $1399… Our acid washed SUPer-Lite carbons are $1799... The only exception is the 11'11" One World Surfari which is $50 more than base price in Australian pine and $100 more than base price in carbon...includes Custom bamboo fin(s)...non-H20 absorbing pad...and, big wave rated leash with safety quick connect...plus, shwag...and, a heapin' helpin' of pure old school STOKE! UNSURPASSED QUALITY...PERFORMANCE...VALUE...our STOKED CUSTOMERS say it best...
2010 Hobie SUP Info
2010 Hobie CFX Race SUP's
More 2010 Hobie Race SUP's
Hobie inflatable PFD's


Hobie All Terrain Stand-up Paddleboards

Our line up of Hobie ATRs focuses on being easy.
The boards are stable in all conditions, paddle effortlessly and emphasize fun.
The ATR family of boards all share common design features making them a treat to paddle in all conditions.

All of the ATRs have ample volume to accommodate paddlers of any size or ability level. Utilizing a flat deck rail to rail increases the stability,
while a flat bottom with tucked rails to ample tail vee allows the board to both paddle effortlessly in flat and choppy water, while maintaining
high maneuverability.

Each board comes padded and incorporates a built in hand hold for easy carrying.

The Hobie ATRs are the best of both worlds, a great flat-water recreation board that can also get out and perform in the surf.


Hobie Standup Paddleboards...click for Hobie SUP catalog

Hobie carbon race SUP's


Durable , lightweight, beautiful finish...comes with integrated handle, pad, self-venting plug, and high quality fins...
IN STOCK NOW...10'6" ($1549)...11'2" ($1599)...12' ($1659)...

HOBIE:
Hobie SUP designs are a result of years of water experience and innovation to meet a variety of needs and conditions. ATR designs cater to "All Terrain Ride"
with a focus on being easy. 12'6" Glide targets distance paddling with speed, efficiency and ease.
4 sizes to choose from to cater to your needs.

10'6" ATR
At 10'6" x 28.75" this is a great board for paddling or surfing. The 10'6" is ideal for surfing in surf from 1' to 10'+, and a perfect fit for smaller paddlers who want a
board that paddles with ease and stability.

11'2" ATR
At 11'2" x 29.5" this design is good for both ocean and lake paddling, and makes for a great family board. The 11'2" has good glide, great stability, and handles surf
from 1' to 8'+ .

12'0" ATR
At 12' x 29.5" this size is a perfect family board designed for both ocean and lake paddling. It also works well for big guys surfing SUP in waves from 1' to 8'+.
The 12' comes with tie down inserts in front of and behind standing position to allow you to tie down fishing gear, a cooler or dry bag for a different type of
paddling experience.


CONSTRUCTION DETAILS:
Hobie EPX-1 - Utilizing a precision one shot epoxy molding system each Hobie EPX-1 Stand Up Paddleboard offers a board that is durable and light weight.
The Hobie EPX-1 advanced construction allows the board to with stand the intense pressures involved in the sport of stand up paddling.

FEATURES:
- EPX-1 construction.
- Recessed carry handle.
- A unique two-way vent system that equalizes pressure due to temperature or altitude variation. Hassle free, no unplugging, screwing or unscrewing required.
- EVA deck pads with comfort grip traction in standing area.
- All boards with double leash inserts for extra strength.

HOBIE COLOR OPTIONS:
Mango, Red, or Aqua blue.


More pics and info here...
<


NEW! Hobie Polarized sunglasses and PFD's are here!