You guys (and gals) will always remember the first time that you did it...
Standup paddling, that is...what did you think I was referring to?...;-)
In many cases it is love and passion at first sight...you just have to do it...
Surfing was like that for me...and here I am over three decades later still doin' it...
For other people it might take the original planting of the seed and then a period of gestation...windsurfing was like that for me...
I got to try windsurfing for the first time in the early 80's while in college in the Pacific NW...one of my Oceanography professors was an early adopter and had an original Windsurfer...windsurfing ads and pictures were starting to appear in the surfing magazines at the time...but, as a hardcore, big wave surfer, it didn't immediately grab me...the sailing I did was in flatwater, and the board and sail rig was big & clunky...
The next Summer on a surfing trip to Baja, the light went on as we watched some competent wavesailors from Maui tear the smithereens out of the windswept point waves...riding the waves in at mach speed and then turning around and jumping over them on the way back out to do the same routine all over again...this, while we huddled in our tent waiting for a potential afternoon glass off that never happened...
It didn't take us long to figure out...
IF YOU CAN'T BEAT THEM...JOIN THEM!!!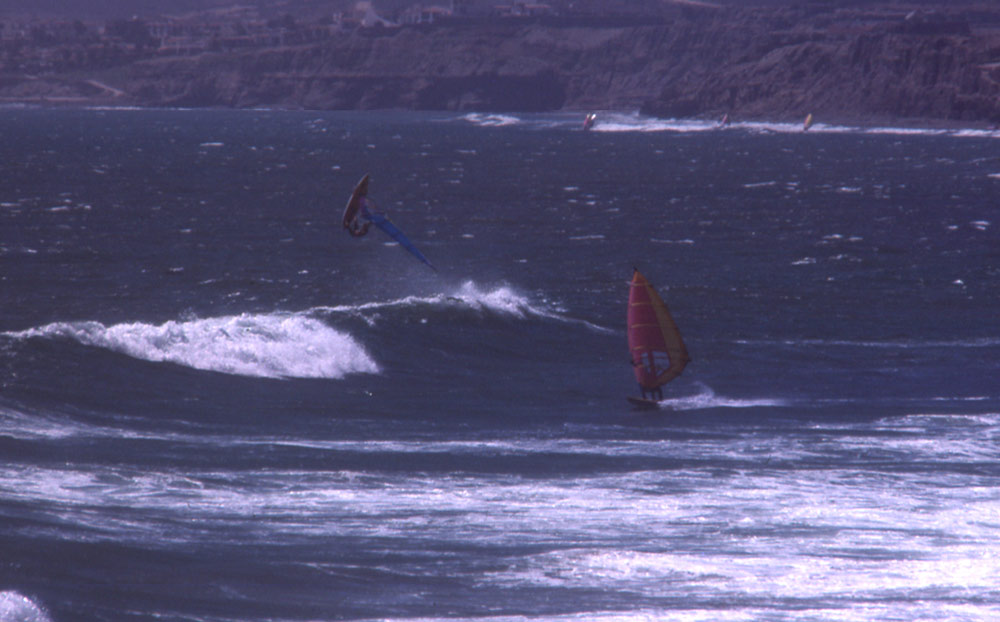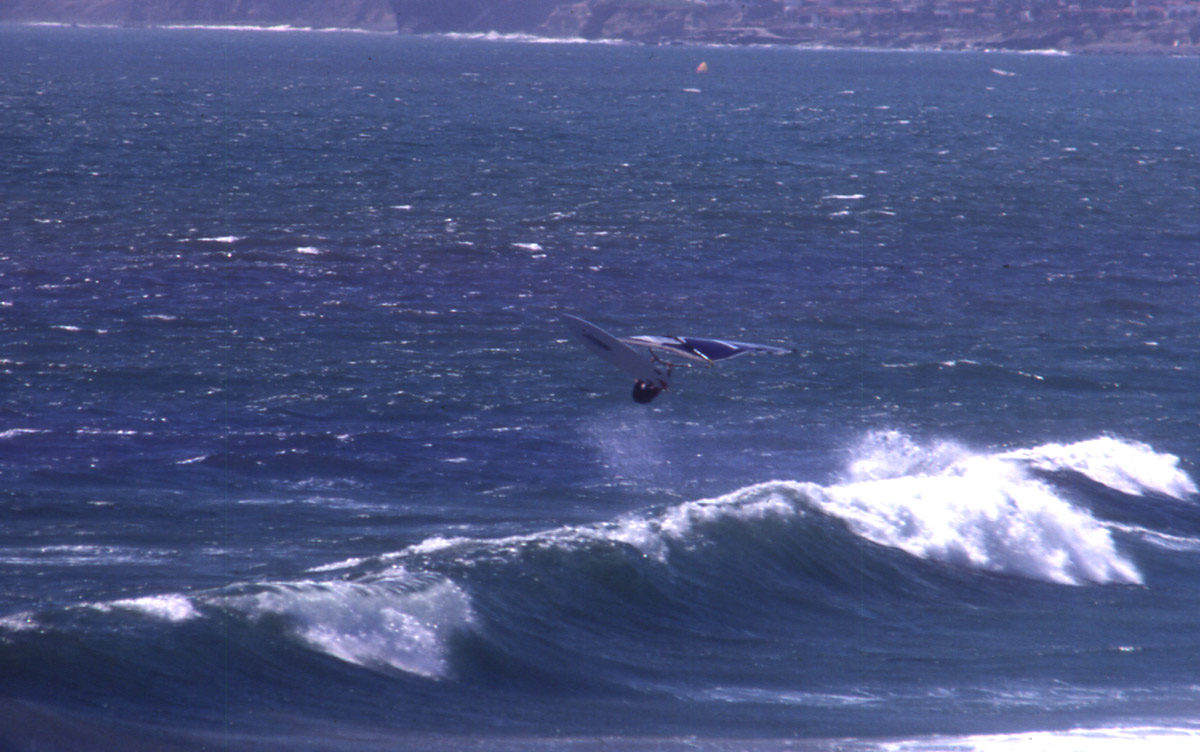 By 1984, when Santa Barbara hosted the Olympic exhibition windsurfing event...it seemed that everyone in Santa Barbara was doing it...there were a number of shops...including windsurf accessory manufacturer Windsurfing Hawaii...windsurfing was touted as being the fastest growing watersport in the world...just like SUP is now...matter of fact...there are a lot of parallels that can be drawn between the two sports...and, others like snowboarding for example...
Early days of windsurfing in Santa Barbara...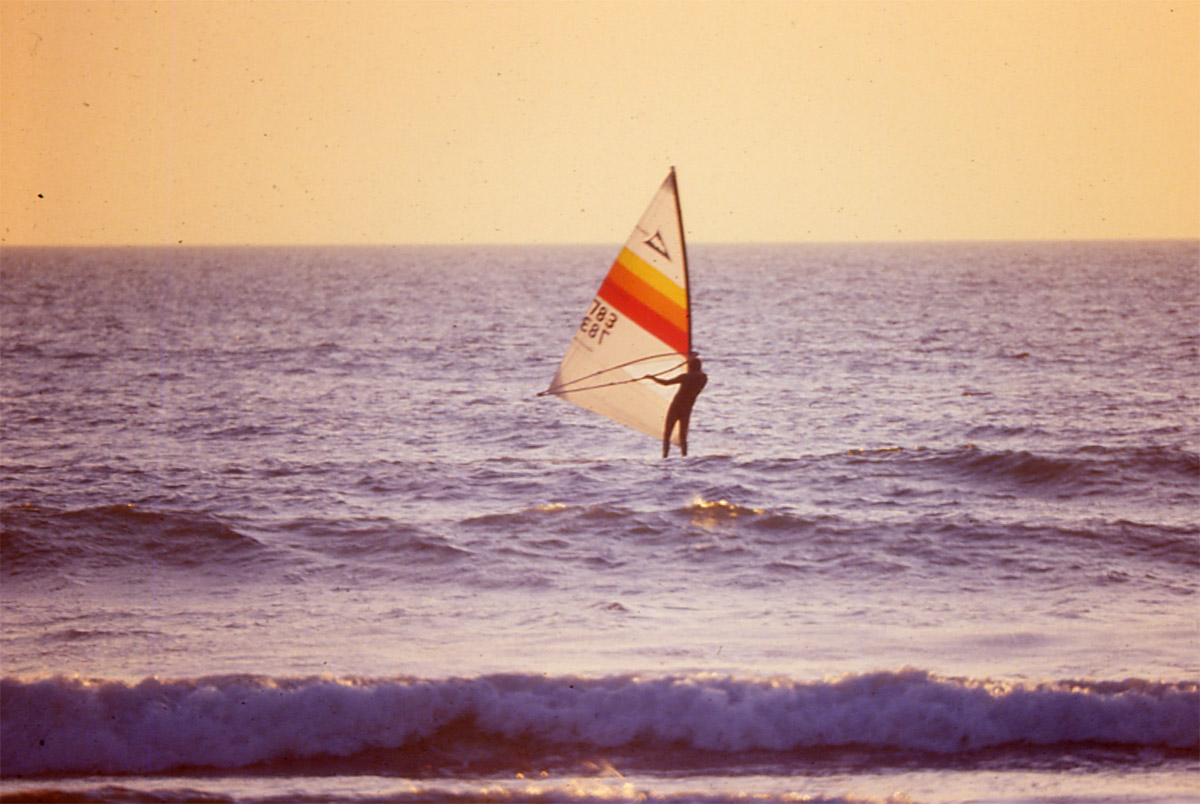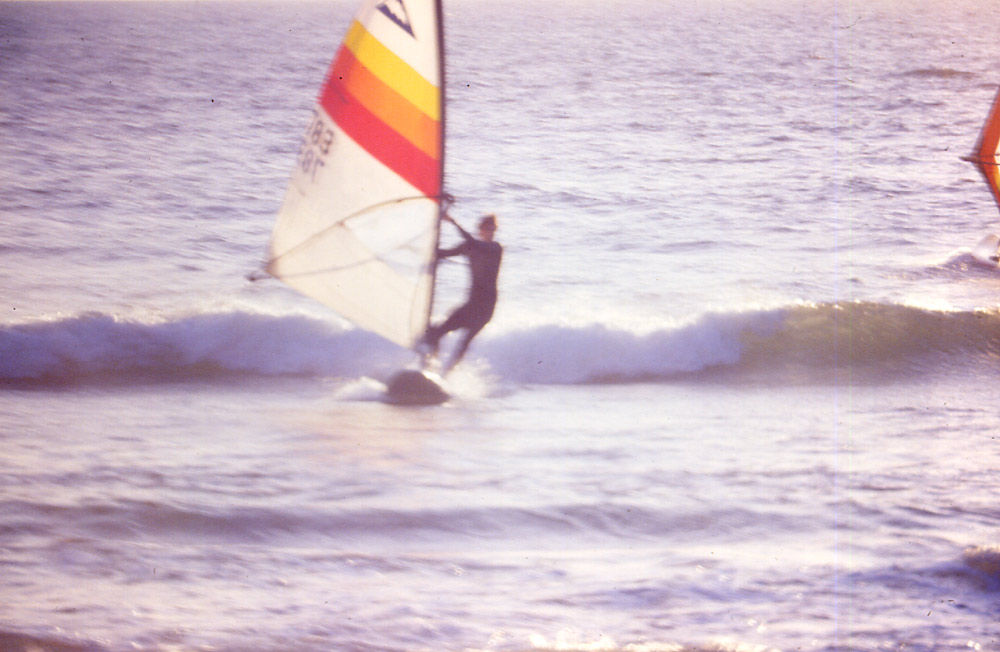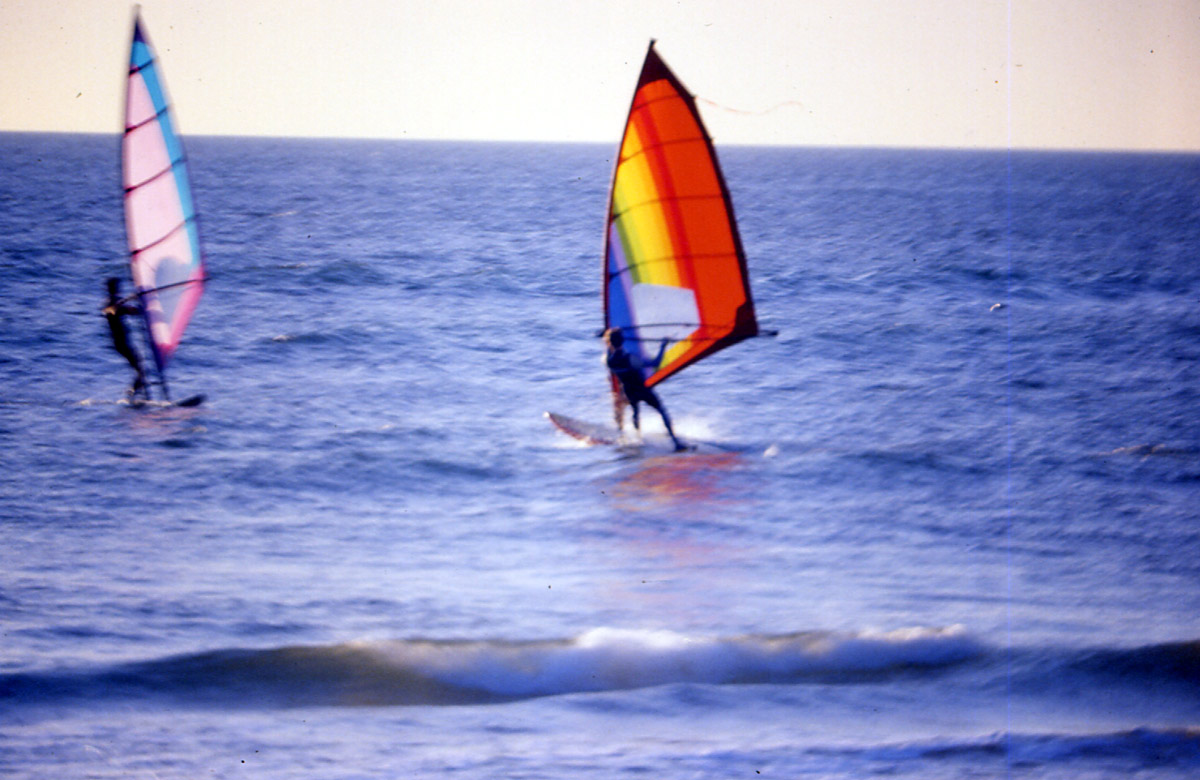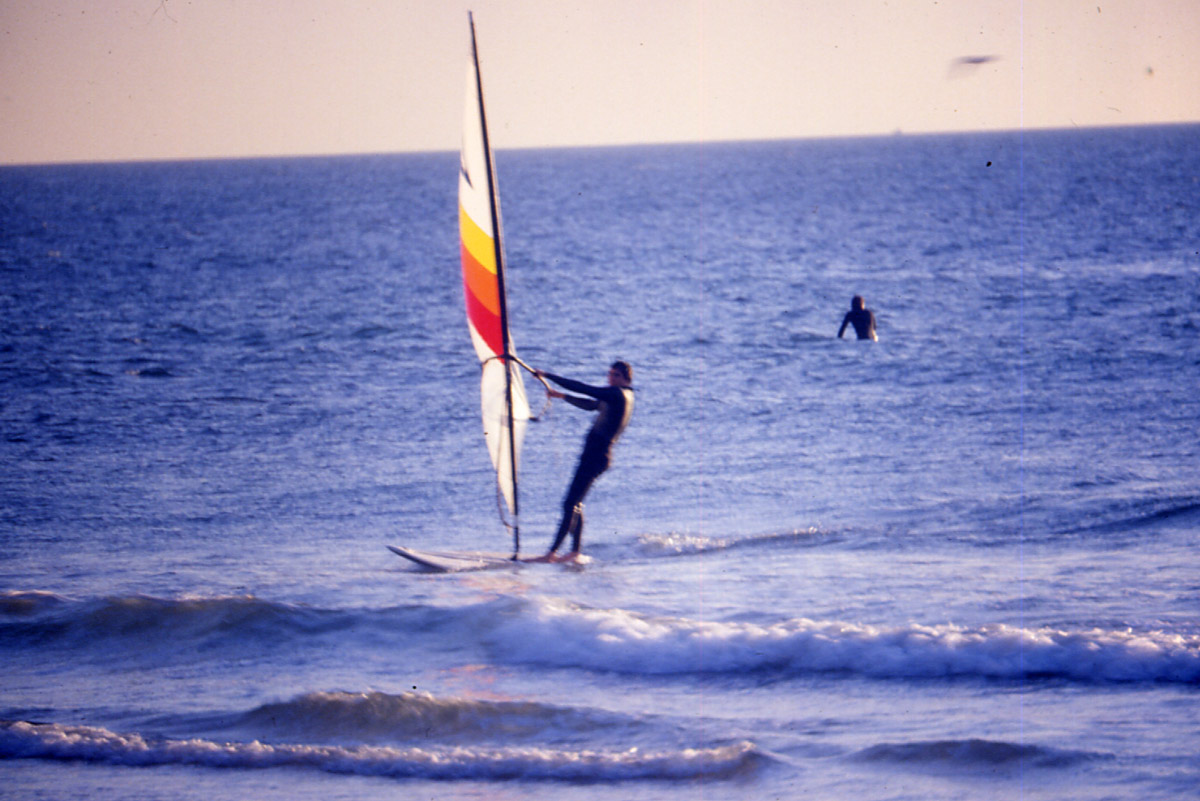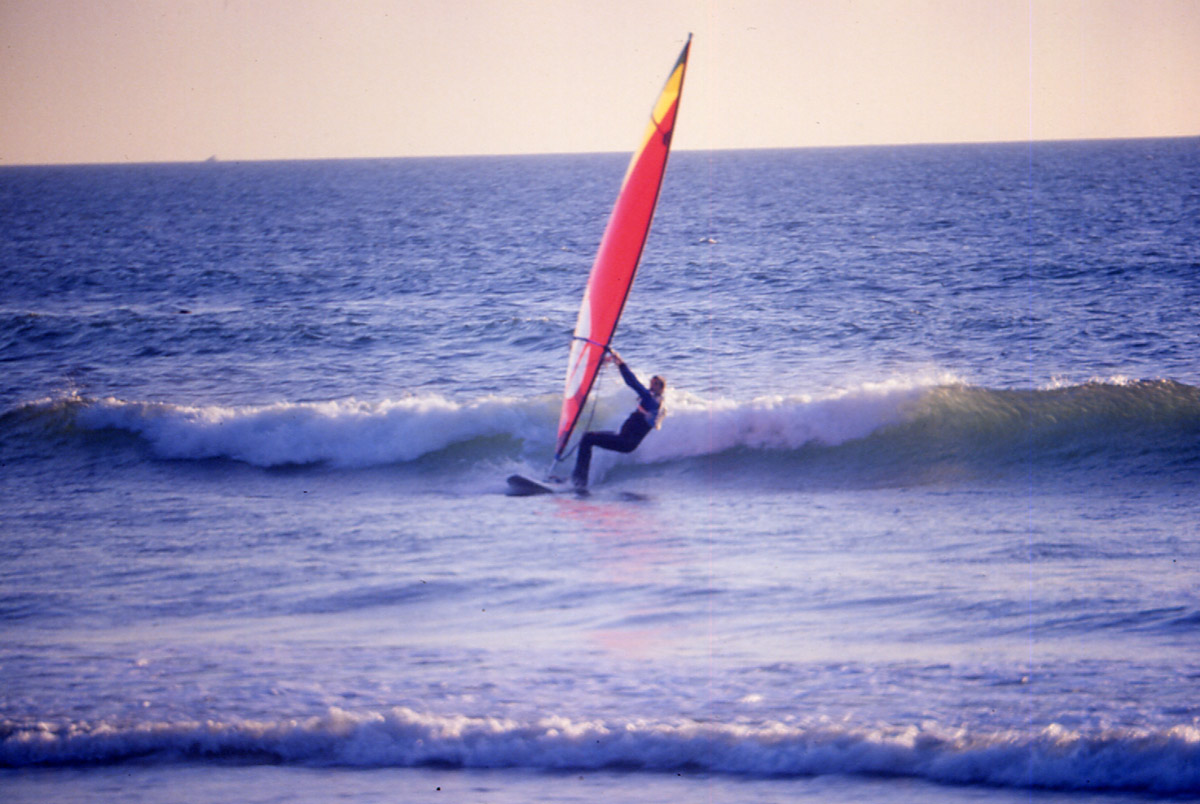 Deb didn't get into windsurfing right away because she was still running and doing triathlons...it wasn't until she had an injury that she gave it an honest go in the Summer of 1985...
Trying to windsurf in light wind was hard because the rigs back in the day, were heavy and unbalanced...holding up the laundry at Santa Barbara Harbor...
Lake Lopez had better Summer winds so we started going there...I had learned to waterstart at Leadbetter Beach...and, was learning to duck jibe...feeling the need for speed...as Deb was just getting going with her tacks...
My custom
George Greenough
speed board and custom sail from my brother in law in
Alaska
...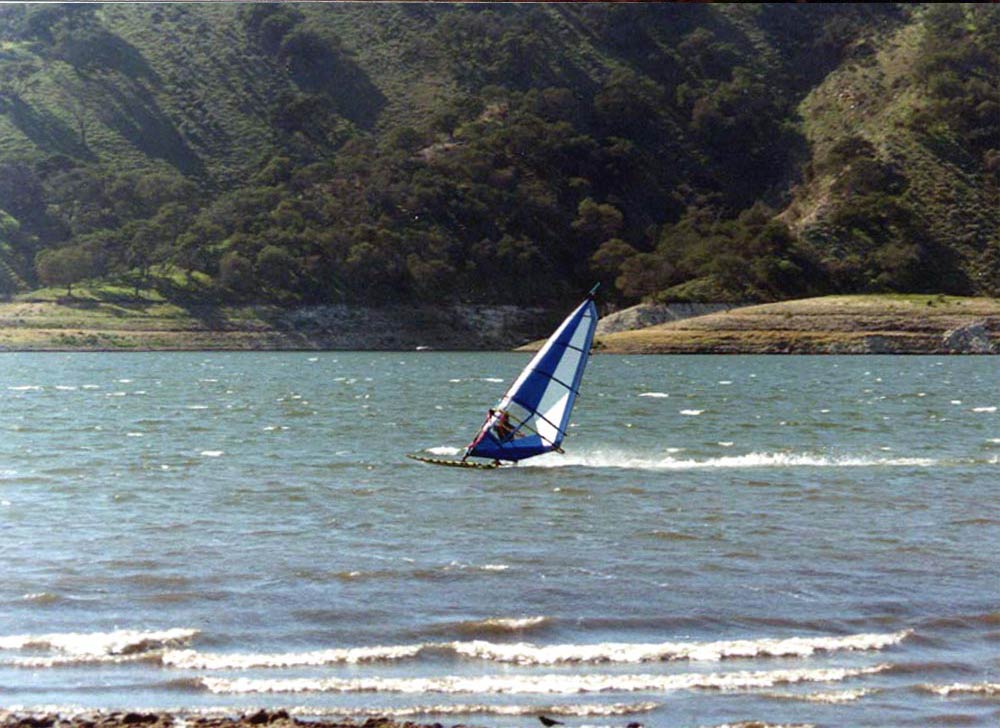 Our love affair with Chocolate Labs was well under way...camping and sailing at Lake Lopez whenever there was fog on the coast...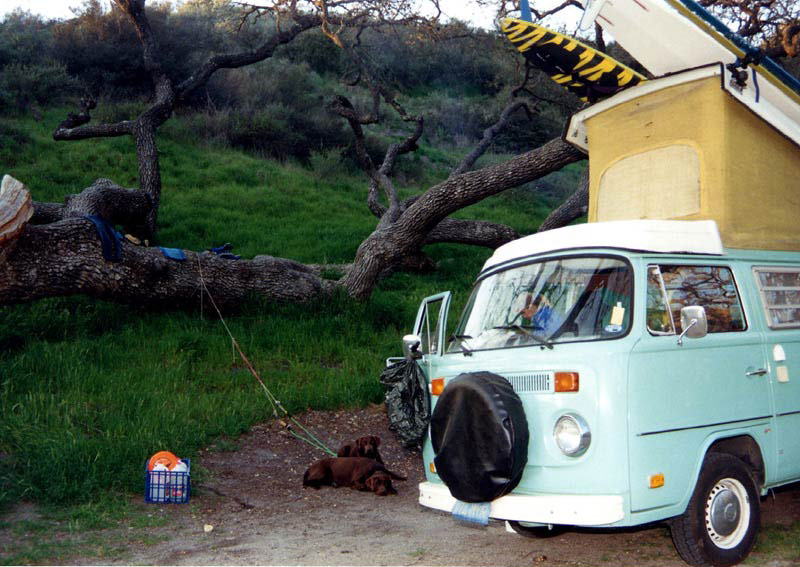 We knew about this place in Oregon that had nukin' winds called "The Gorge"...
So we loaded up the freshly painted VW Westphalia...we were running out of space with the dogs and all...so we built a box on the boat trailer and filled it with windsurfing gear, and joined the Summer migration of wind gypsies to the mecca of windsurfing in North America...seemed that most everyone was living in their cars/vans up there chasing wind...we ended up getting our
Sprinter van
from up there...the land of the fun hogs...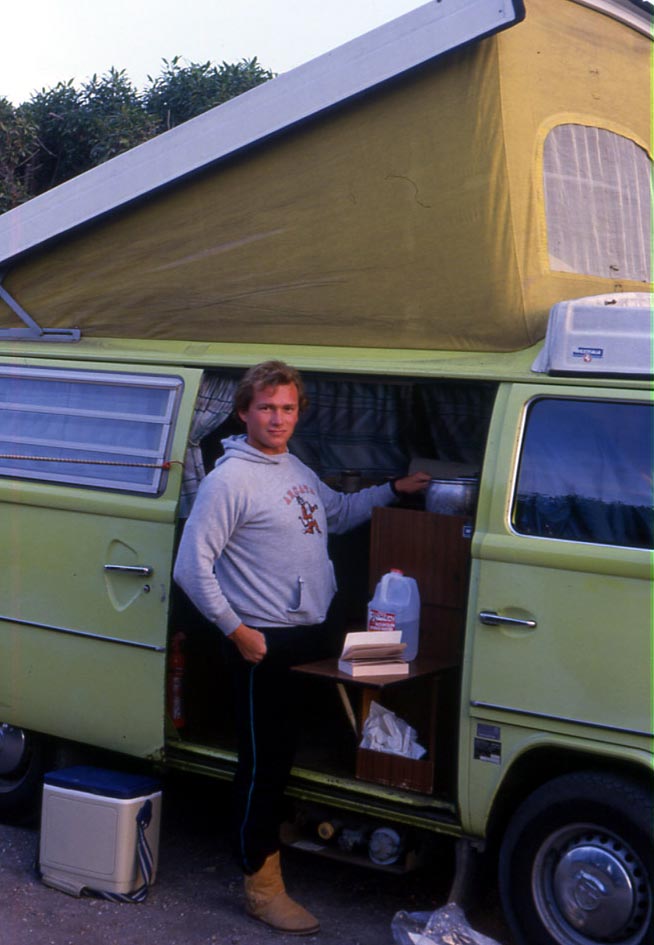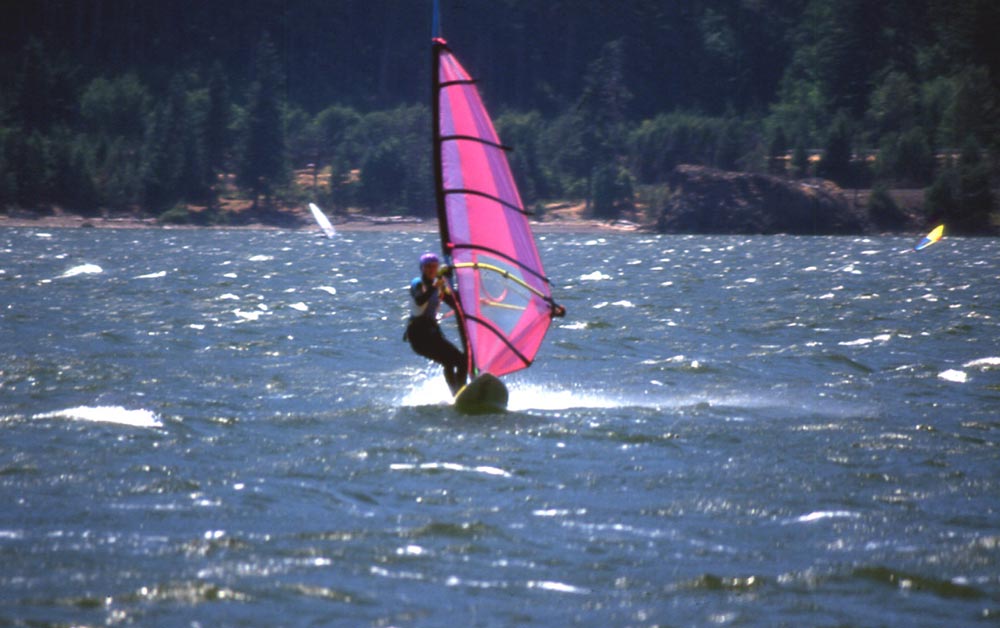 I taught Deb how to waterstart in the Gorge...not an easy feat...
NOTE: Don't teach the person you sleep (or intend to) sleep with...
Almost cost us our marriage...;-)
By the end of the 80's we had become involved in the windsurfing industry...we were deeply involved in product development working with the top sail, board, and fin designers...and, attending the windsurfing trade shows...we're still at it 20 years later just as deeply involved in the standup paddle board industry...this ain't our first rodeo...;-)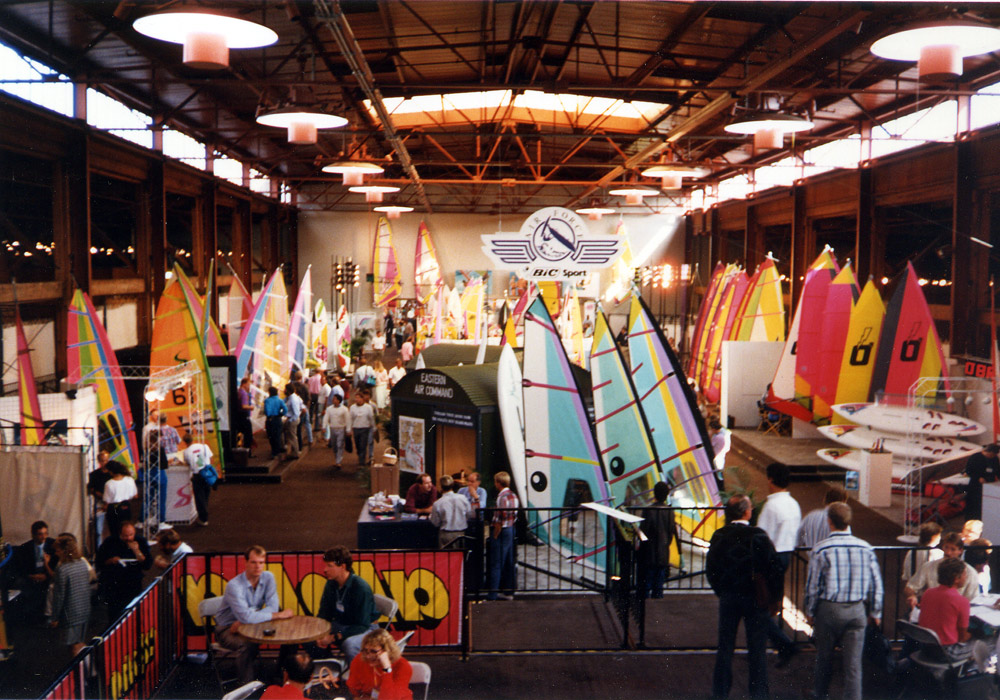 By the end of the 80's Deb had mastered rigging her own sails...and mine...;-)
Simmer down...Central Cali circa 1999...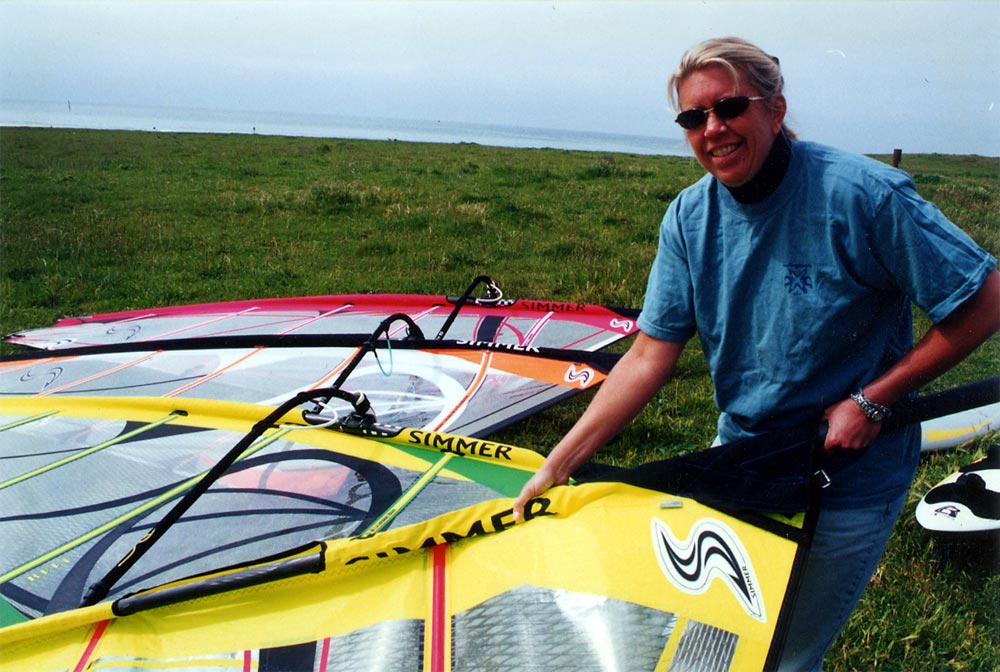 We continued to do annual windsurfing treks up the Cali Coast to the Gorge and Oregon Coast up to the end of the century...then the gear went through a rapid evolution...sail aspect ratios changed...draft was stabilized...new materials made boards lighter and faster...the line of custom epoxy trifin waveboards that we developed with
Mark Bassett
, made it a lot funner to enjoy the great conditions we have locally, and within a short driving distance...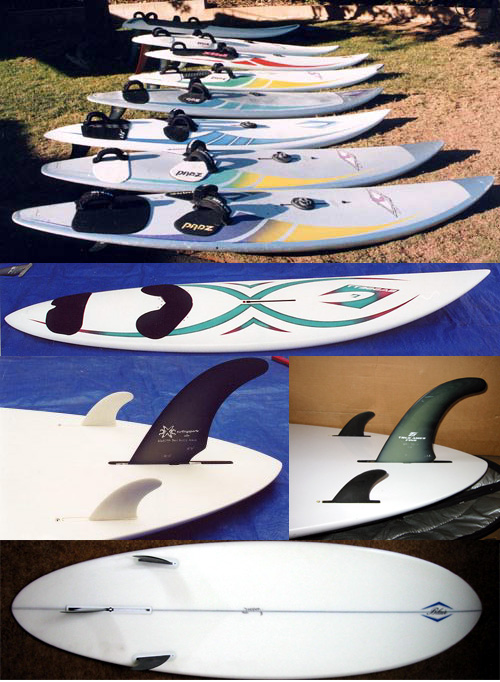 Deb in the 21st century on one of our many windsurfing trips to Maui and the Baja...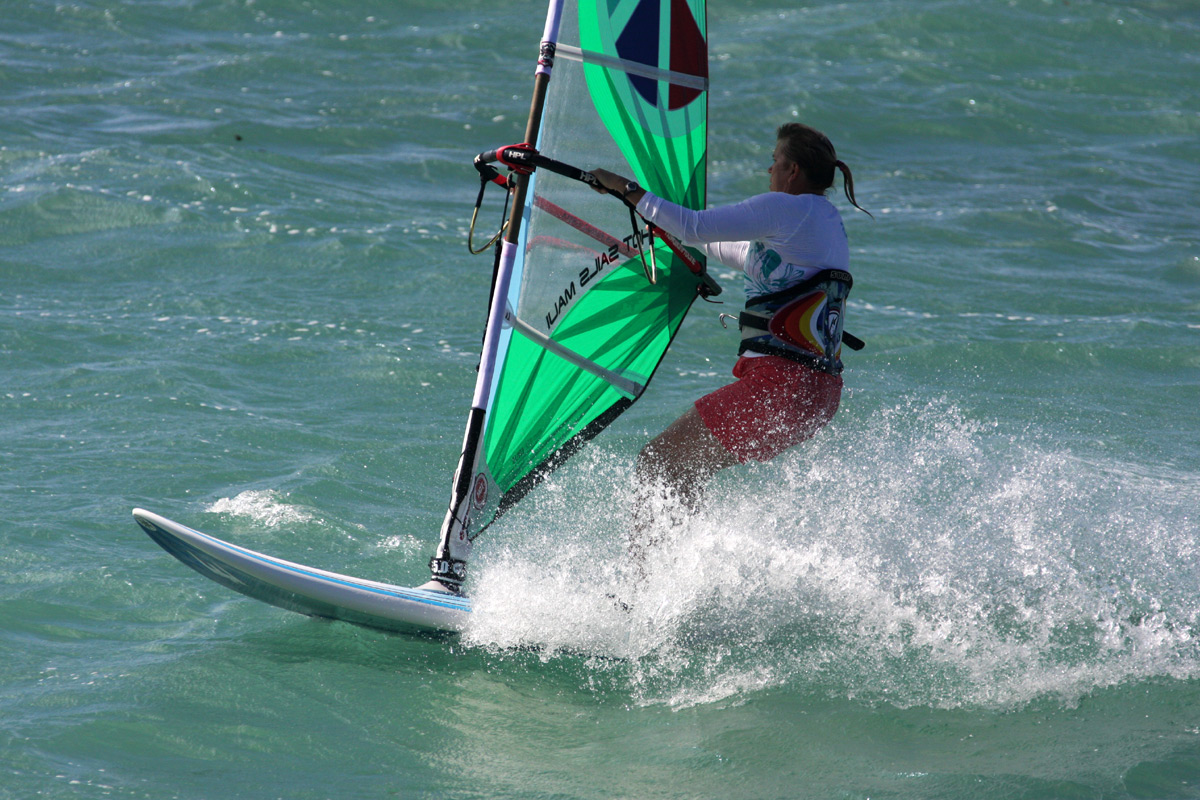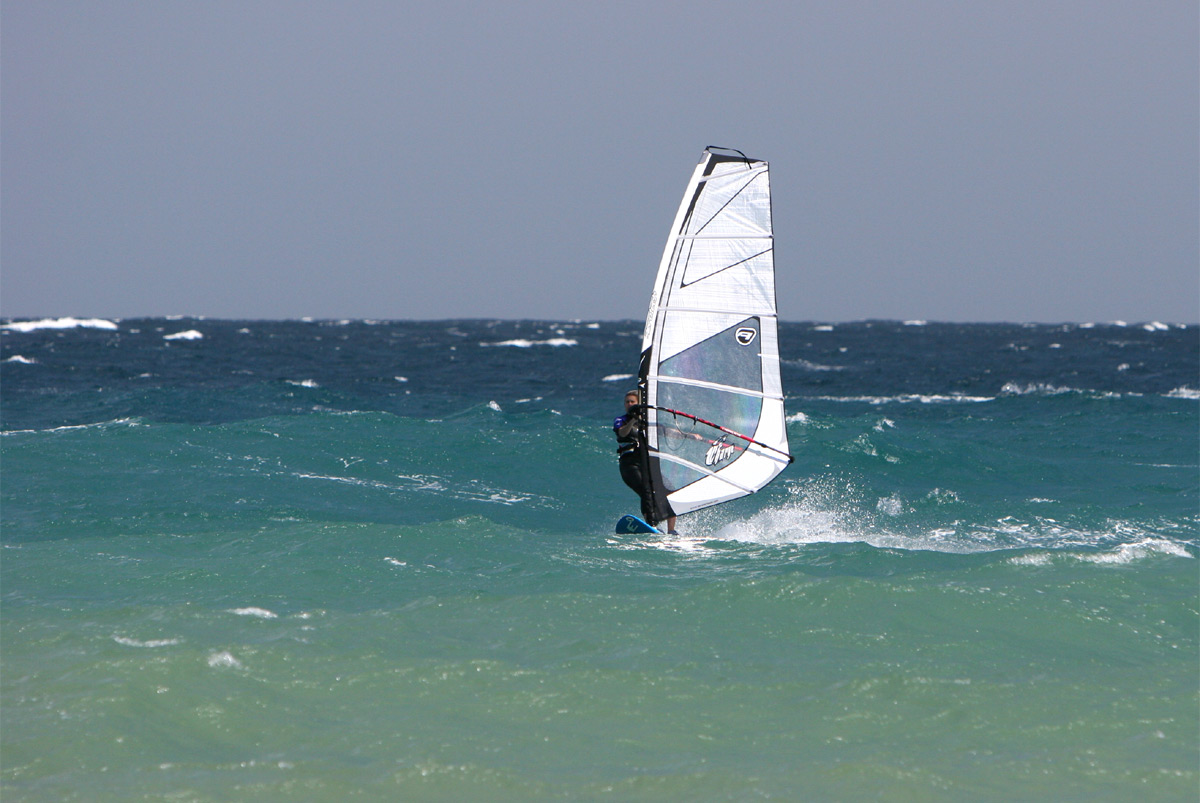 Check back as I continue to fill in the blanks on this blog post...
...to be continued...
Labels: Baja windsurfing, Early windsurfing, Gorge windsurfing, Santa Barbara windsurfing
If you ever have a question(s) about putting a sail rig on your SUP...or, windsurfing question(s) in general...ping us on email...or ring us up toll free...
We have 100 years of collective windsurfing experience on our staff...including one of California's first wavesailing champions...Guy Lindburg...who is also an expert hang glider pilot, and kiter...
Here is our V.P., Deb, putting her sailing kit through the paces in Maui and the Baja...she also loves to do standup in both of those places...as well as her favorite spots right here in Santa Barbara...
Labels: Baja windsurfing, Maui windsurfing, Santa Barbara standup paddle sports
Here's a couple of action packed photo galleries from the shores of California's Central Coast...
to the Baja...to the North Shore of Maui...
that should further stoke up the desire for the coming season...


Spring Equinox is officially only 46 days away!!!
Labels: Baja windsurfing, California windsurfing, Maui windsurfing, windsurfing