WHAT
a great new family sport standup paddling is...
WHY
not give the gift that keeps on giving this holiday season?
WHEN
times get tough...
GO PADDLING
...
WHEREVER
there is H20...
We've just spelled out the 3 "W"'s of SUP...actually 4...;-)
In these tighter economic times we've had lots of families lately coming into our shop to get outfitted for standup paddling...it makes a lot of sense...
What else are you going to do...sit home and freeze in the dark?...;-)
Heck no...you're gonna start having "staycations"...utilizing the nearby water recreation resources at your disposal...
Standup paddling is doing something healthy for you and your family...and, it's outdoors...
Standup paddling is way less expensive than a gym or country club membership...ski boat...hair transplants...boob job...or, even a psychiatrist...;-)
You can utilize a nearby body of water for nearly everyday recreation...have we said that already?...;-)
Standup paddling is the funnest core body workout on the planet...that's saying something...
YOGA ON WATER...mind...body...spirit...soul...
Standup paddling is less dependent on the elements of wind, waves, tide...etc...
L@@K around...you can always find a protected body of water...and now with the new Coast Guard regs, you can paddle in any harbor with a fanny pack PFD/whistle kit...
Standup paddling has reduced our gas consumption chasing waves and wind...making it a greener sport...
We could go on and on...but, you're already reading this standup paddle blog for a reason...so, it's prolly like preaching to the choir, huh?...;-)
Here's the dealio...
WE HAVE MORE STANDUP PADDLE BOARDS IN STOCK AT OUR STORE THAN ANY SHOP ON THE PLANET...over 140 QUALITY SUP's...we know what VALUE is and excercise our buying power to ensure that you get the best bang for the buck...
We have containers of boards rolling in monthly...here's one from yesterday...
Another container arrives at the shop...good thing for weak minds and strong backs!!!...;-)
Just kidding...Mike C. was a key player in the development of Windows 95...but, don't hold that against him...;-)
Staging a few boards before moving them into our shop...
Our extensive knowledge of the standup paddleboard market will help you make the right buying decisions...we've been there from the beginning and opened the first, and still, only dedicated SUP store on the North or South American continents...
Our inventory is fresh,
FIRST CHOICE
, Grade AAA, cherry picked...we've been ahead of the SUP curve the whole way...we've NEVER had to settle for leftover boards with poor design because that's all they can get like many of the virtual mail-order online stores popping up online daily with a greedy gold rush mentality...posers...it's really getting pretty ridiculous...standuppaddleboardwarehousedirect-hucksters.com
Our knowledgeable and friendly staff, in addition to having years of SUP experience...has hundreds of years of collective watersports and outdoor pursuits experience...surfing...windsurfing...kiteboarding...kayaking...fishing...diving...and hangliding...snowboarding...skiing...and snow kiting to name a few...
We can talk the talk...AND do walk the walk...
We've already discussed the WHAT, WHY, WHEN, & WHERE...we also do the HOW...
Our blog and website is full of pictures of "never-evers" morphing into standup paddlers...we've taught hundreds and hundreds of clients here in the local waters of Santa Barbara, California...the standup paddling mecca of North America...it's an amazing and deeply satisfying feeling for us...truly a "warm fuzzy"...
We're very appreciative of the dozens of folks over the years that have dropped us an email along the way with their
CUSTOMER TESTIMONIALS
...
To show our appreciation, we are offering a few deals to stoke your holiday cheer...
Because of our volume buying power, we have purchased a bundle of
Starboard 12'2"'s
...12'2" X 26 5/8" by Mark Raaphorst ( top Maui based SUP rider and shaper).
More pics comparing it to the Starboard 12'6" Cruiser in this
gallery
...
When it first came out we really liked how it glided...great speed...and had excellent directional stability...it's been called the best windsurfing SUP because of those attributes...but, we were L@@King for a surfier ride...now, in the context of the narrower standup paddle racing boards that we've been riding, we think this is an excellent flatwater paddler and are offering these boards to people at the unheard
of price of $849...they were MSRP $1499...
These have the deep handle...numerous tie-down points on the deck for attaching a drybag or fishing gear...they also come with a center-fin option...added stability...
For a limited time...add a
Werner Carve or Advantage SUP paddle
for $150...
That's $999 for top of the line, raceable flatwater SUP gear...outrigger clubs are already jumping on this deal...so act now...when they're gone they're gooooone...
If you are L@@King for a wave rider...we also have the popular Gerry Lopez epoxy 9'6" and 10'3" SUP's that others are selling for $1450...on sale for $999 pad and fins included...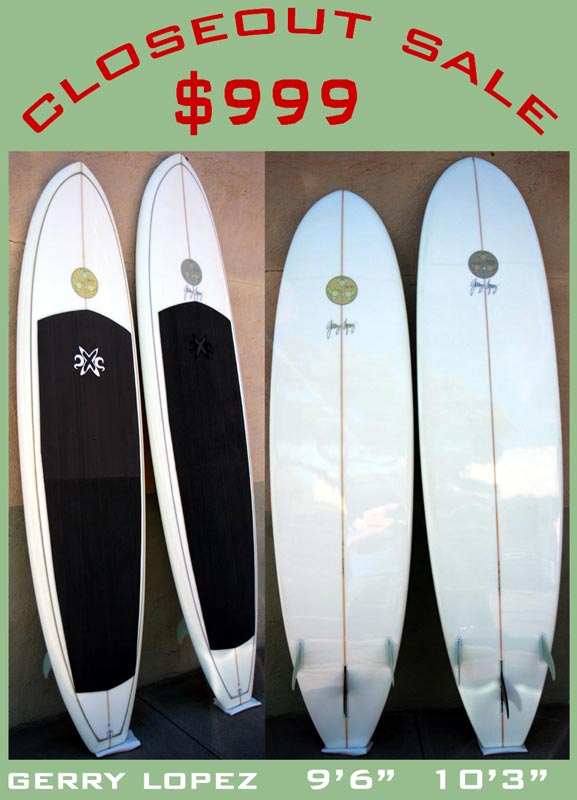 We also just received the new
2009 Starboard SUP'er 12'6"
...we have them in camo or stripe...more closeup pics and details in a few days...
We rode this board in Oregon a few months ago...and think it will be the best fishing SUP out there...also, the best crossover SUP/windsurf family board on the market...
The SUPer 12'6" is the World's first SUP and windsurf board with a daggerboard system. It can be moved with very little effort...and the deck knob can be unscrewed and stowed away...
As a board that gets anyone on the water in zero time, the SUPer 12'6" is the key to unlocking the potential of lightwind windsuring to a wide public. When stand up paddling, its long, slender shape glides smoothly and catches waves easily with surprising maneuverability. SUP is so easy, so fun and requires no instruction: it's the perfect summer board for the family, for hotels and for resorts. The bonus: it's opens the gate to the wonderful World of Windsuring too.
With its integrated mast track, its daggerboard system and itted with a windsuring sail, you have a lightwind windsurfer that glides beautifully across calm waters, a board that is maneuverable for lightwind waveriding and for old-school lat-water freestyling. With 30" of width, it's also a stable platform for progressing windsurfers and for dads to teach their kids how to windsurf.
A true crossover between two sports and two generations, the SUPer 12'6" is really 'super'. A classic design that opens a whole new world to a whole new audience.
Labels: GERRY LOPEZ SUP SALE, Santa Barbara standup paddle, Starboard SUP's