We've already addressed the
WHY
part of the SUP equation...in a nutshell,
SUP = FUN (x10*nth)...
If a picture is worth 1000 words...
here's a million more reasons to standup paddle
...;-)
We just had three days of 80* F weather last week...Spring has sprung!
Coming soon to an area near you...;-)
Everyday we get folks in the shop...and, phone/email...who have finally overcome their "paralysis by analysis" and have just thrown their trust to us for their big-ticket, standup paddle board acqusition, because at the end of the day you're gonna have to trust somebody...why not choose the country's first fully dedicated SUP store that is the market leader?...thousands of new standup paddlers have...we'll assist you in choosing the right SUP...the first go around...there is a dizzying array of boards on the market these days...so choosing a knowledgeable, honest, and friendly shop that is fully stocked with ONLY QUALITY products is the first step towards getting the right equipment, the first time...
OUR CUSTOMERS AND QUALITY ARE ALWAYS #1...
We are a year-round, full-time, standup paddle board company...rust never sleeps...
so neither do we...;-)
We have our thumbs on it 24/7...365..so you don't have to...
We are always on top (& outfront) of the newest trends and developments in the sport...it's our job to take our (& your) fun seriously...
Our staff are standup paddleboard specialists...we have been into it from the beginning and continue to be the industry leaders...you get what you pay for...so, if you want the best, buy from the best...we have the best value...best selection...and, most importantly, we offer the best
customer service
at no extra cost...good old-fashioned, "
Golden Rule
" business ethics...
You can find real value in the 14' Naish Glide in
AST construction
for $1599...
From production to custom...wave to fitness...race to touring...
Here's the finished product of the eyepopping, artisanal quality
North Pacific SUP's
coming out of the factory...we'll have the finished product in hand soon...we'll post up some high rez images in a few days...
The new
Starboard blue Touch
boards are the best value on the market...
Here are a few shots of the 11'2" Blend in blue Touch...special price of $1169...
It doesn't get more gorgeous than the
TAC wood boards
by Starboard...
Naish
has over 21 boards in the lineup this year...we just got in the new 10' x 32"
Naish Mana
AST for $1249 and the
Naish 11'4" Nalu
in AST for only $1249...we're taking pre-orders for the 10' x 32" Mana soft top for $999...everybody needs one of these in their SUP quiver...
We also have the latest SUP offerings from
Jimmy Lewis
...
Hobie
...
Blair
...
RRD (Roberto Ricci Designs)
...
Bill Foote Maui
...and,
Imagine
...
You can pick your paddle board up directly from our conveniently located warehouse...here's Mike trying the fit of a 9' Starboard Fish in his Toyota Prius...
It's bigger brother, the 9'8" Fish is going to the Caribbean by boat next week...
If you can't visit our SUP showroom and warehouses here in Santa Barbara, no worries...we ship paddle boards direct from our paddleboard warehouses all over the world...here's a couple that we shipped to Seattle on Wednesday and they were in the hands of their new owner in less than 48 hours...
Our shipping department is unmatched in the board industry...
Double boxed and ready for shipping...
Labels: paddleboard specialists, paddleboard warehouse, paddleboards direct, Santa Barbara standup paddle sports, standup paddle boards
We've done a number of private "white glove"
SUP demos / lessons
for our rock star, movie star, international radio personality, television commentator, business mogul, etc...clients...no big dealio...we offer the same level of service to our "everyday Joe and Jane" types, as well...
Brian M. drove up from Ventura County for one today...he's a surfin' cowboy...wears
Ariat ropers
...as do I...fortuitously, designed by another client of ours...
Brian has purchased a couple of Bill Foote SUP's from us...he has the 9'10" and 11' models...problem is, he is an addict...;-)
Brian has counted at least 80 surfboard acquisitions in his head...for the record, I'm well into triple digits...that's part of the reason that I own a board company...;-)
I've had a saying about my
WARDOG fin designs
, as a pragmatic and analytical recovering engineer/scientist, that you have to leave the science at the water's edge and let the dance take over...the same holds true, I've also discovered, of my involvement in standup paddle board designs...compared to surfboards...there are some counter-intuitive aesthetic parameters that optimize SUP performance...
"Trial and error" R&D is very effective at getting performance enhancements out of a product...it's also expensive...that's why I like to work with longtime, established surfboard and sailboard shapers when designing new shapes...most of the guys we work with have over 20 years of shaping experience...and, several have over 40 years of hand shaping experience...
"Feel" is a huge part of the QUALITATIVE experience when you paddle and/or paddlesurf a SUP...
Brian is also very analytical...but, I've diagnosed a bit of "paralysis by analysis" in his latest quest for the "holy grail" of surfing SUP's...
So I loaded up a portion of my personal SUP quiver and met him at a more private location to let him decide for himself what his next purchase would be...
NOTE: If you would like to do the same and can't drive to Santa Barbara, we have had a number of clients fly into our great airport here in Santa Barbara where we have picked them up and have also provided accommodations...
If you have been paying attention to our extensive blog posts and image galleries, you realize that we no longer carry a number of SUP's and products...times change...products become dated and some of the companies that produce them lose their focus on Q U A L I T Y...attention to detail and striving for excellence...these are standards that I have employed in over 2 decades of watersport product development...
We also feel that if you only offer one brand and are focused solely on it, you are too subjective...how the heck do you know that your brand "kicks ass" if you don't paddle any other paddle or board?
You'll NEVER hear me proclaim "buy this product because it kicks ass...yup, buy it just because I say so"...our QA standards are a little more stringent...I'm a scientist, I don't believe in make believe...therefore, we don't sell it 'round here...;-)
If you haven't noticed, we are not in bed with any one brand...our clients value our objectivity...it helps to keep everyone honest...
We also think that offering SUP boards with click & buy links is kinda ludicrous...it's really only for "value shoppers" that have little regard for quality, resale value, or optimal performance...etc...and, worse...greedy website shisters preying on newbie sensitivities to push their low-end crap for the lowest common denominator...most of these guys don't even standup paddle...
SUP-posers...it's just another in the line of sports that they are trying to exploit and pad their wallets with...chasing their tails...
We want to engage our clients in a discussion about their equipment...we'll solve the "problem" together...you only live once...so you may as well make it count...
A few of Brian's choices in SUP's that he was focused on...choices are a good thang...;-)
The Starboard 9'8" wood Fish...
This is hard work...but, it's F U N!
Let's try the 9'5" x 31" Naish Mana...
Smooth and stable...
Next up the 9'10" Bill Foote that he already owns...good reference point...
Checking out the hydrodynamic perfection of my new 10'6" stinger gun design...
Ooops! Put that science back on da beach!!!
The North Pacific 8'10" x 32" winger swallow quad plus 1...
The 9'10 x 32" North Pacific winger swallow quad plus 1...
Eenie meenie minie mo...lotz o' boardz fo' sho'...;-)
Next up is the Blair 9'7" x 30.5"...
North Pacific custom sweet nectar...just a few of the unique offerings that we've had a hand in designing...
More images in this
GALLERY
...
Labels: paddlesurf boards, standup paddle boards, SUP
HAPPY EASTER!
Now that Spring is truly here, we've been shipping standup paddleboards and SUP paddles to all corners of the country...recent shipments went to Alaska, Minnesota, Washington, New Hampshire, New York, Virginia, Connecticut, Florida, Indiana, Texas, Puerto Rico, and New Jersey to name a few...our
customer's testimonials
say it better than we ever could...
Double boxed SUP's waiting for freight pick up from our shipping department...
Of course, we've had a number of travelers in town for Easter picking up boards and paddles as well...Sergio from Half Moon Bay will be enjoying his new SUP today before returning home to the SF Bay Area...
Santa Barbara locals Kevin and Jason, both brought home an Easter surprise to their families yesterday...;-)
Flatwater paddling beauty...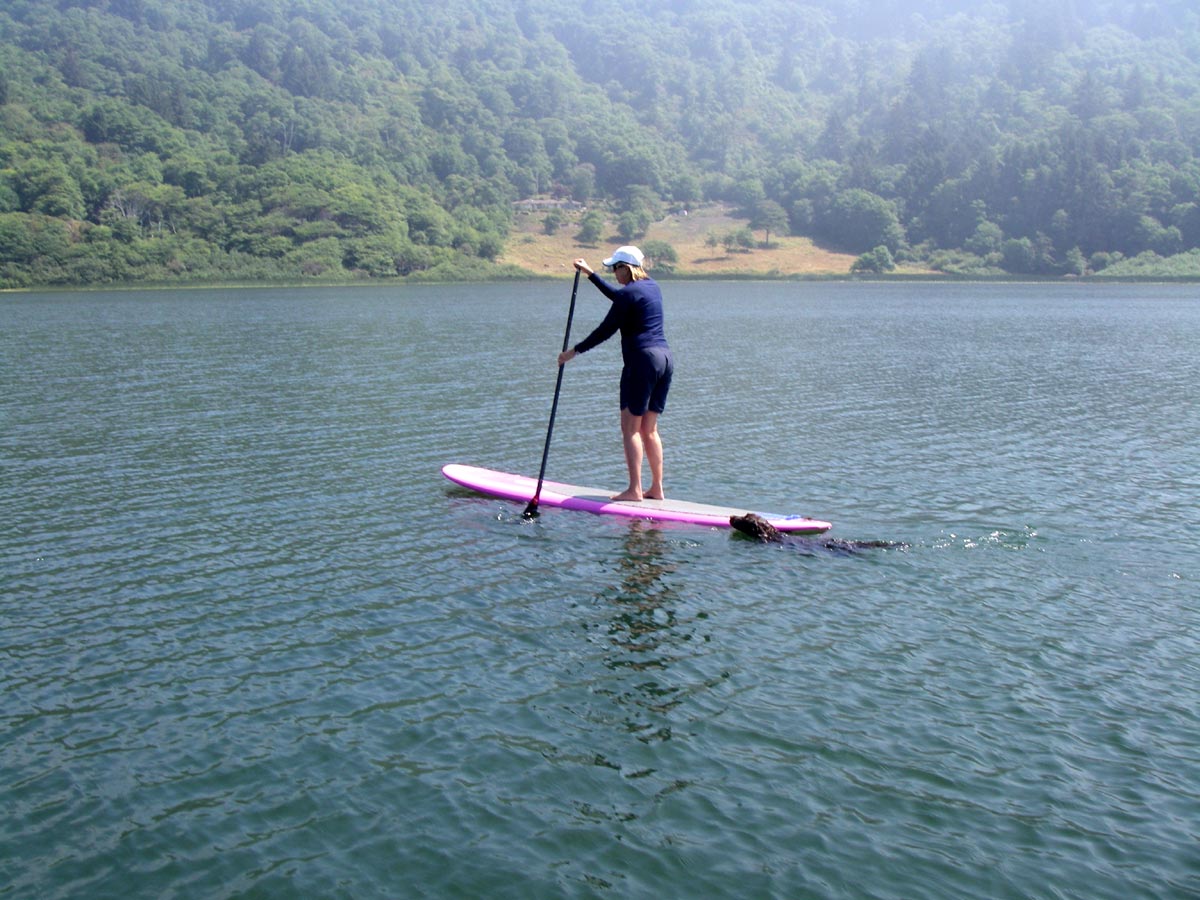 Man's best friend along for the ride...
The essence of standup paddling...F U N !!!
If you need any help with your SUP buying decision, we're here to help...
We have the most experienced SUP sales staff on the planet...
Flatwater cruising to paddle racing to all arounders...to wave rippers...and everything in between...
We are a
REAL SUP SHOP
...not just a cheesy ecommerce site with the same generic thumbnails of boards NOT in stock...VAPORWARE...trying to sell make believe...or, a surfboard, kayak, kiteboard, or windsurf shop with a few dusty clunkers in the back that they're trying to pawn off on a newbie...call or email us...you work too hard for your money to make a mistake...we'll help you navigate through the maze of cheap knockoff garbage that has infiltrated the SUP market like a computer virus...
NO WORRIES...WE ARE THE REAL DEALIO!!!
OUR CORE VALUES:
QUALITY...VALUE...SERVICE...EXPERIENCE...DEDICATION...INTEGRITY...
We bring SUP's in by the container...another one arriving this week...our inventory stays fresh...
A dedicated SUP store...with heaps of boards in our showroom, backed up by two warehouses fully stocked to satisfy EVERY discipline of the SUP paddler...
All of our SUP's have handles...
Shop
GALLERY
...
Labels: paddle boards direct, paddleboard warehouse, Santa Barbara standup paddle sports, standup paddle boards, SUP store